Every morning on work day in Kuala Lumpur, the capital of Malaysia. As working people rush toward offices, with traffic moving at snail speed. The city awakes, and slowly get into busy mode.
At the same time, at some obscure corners of all office buildings, you will always find some small breakfast stalls, with those who manage to reach office a little ahead of time, lined up for a quick fix for breakfast and the stall owner busy packing variety of simple fried noodles/rice and some sides such as fried egg, luncheon meat, chicken nuggets, fried sausages.
This simple, economical breakfast serving thousands everyday in the city I once called home. Never failed to satisfy those hungry stomach. God bless that city and its people!
I borrowed a picture from one of the blog to show how it was sold in KL, the link to the post:
http://www.lakopi.com/thread-7189-1-1.html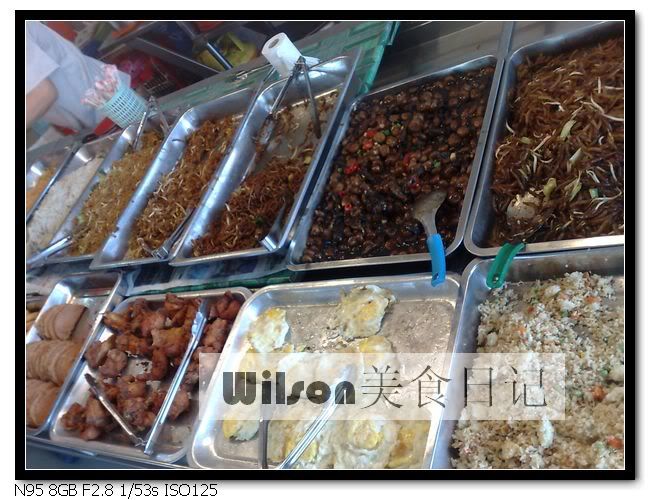 Ingredients:(Yield 2-3)
200-250 gm of rice vermicelli (I used brown rice vermicelli) soaked with room temperature water until softened
100 gm Moong bean sprout
80 gm Chinese mustard/Choy Sum (break/cut into 1 1/2 inches in length)
2-3 pieces of fish cake or 6-7 pieces of fish tofu/fish ball (thinly cliced)
1 egg (beat with 1/2 tsp of Chinese cooking wine, and a small pinch of corn starch)
3-4 cloves of garlic (Chopped)
For sauce:
1 - 1 1/2 tbsp Dark/Sweet soy sauce
2 tsp Oyster sauce
2 tsp Ketchup
2 tsp Light soy sauce
1 tsp Sugar
1/2 tsp Salt
A pinch of pepper powder
1/2 cup of water
Some of the ingredients needed:
First make the shredded fried egg, beat the egg with 1/2 tsp of cooking wine with a pinch of corn starch until the corn starch dissolved.
In a frying pan, heat up 1 tsp of oil, at medium heat, pour in the egg and swirl the cooking pan a little to get a even level of egg. Cook the egg until the side crunch up, turn it around and cook the other side until it is fully cooked.
Let cool and slide thinly with a sharp knife.
In a bowl, mix together all ingredients listed under suace.
Mince garlic and slice the fish cake/ball.
In a cooking pan/wok, heat up 1-2 tbsp of oil,stir in garlic until fragrant, add the fish cake and stir for a while.
Pour in the sauce mixture and bring to boil, drained the rice vermicelli and add it into the wok. At high heat, stir fry the noodle until all liquid vanish and the noodle became soft, add the Chinese mustard and beansprout, continue cooking until the vegetables are cooked.
Place shredded egg, and a piece of fried luncheon meat to go with the noodle, I sometimes like it with some Sambal Belachan too!
中文版,For Chinese,Click --》经济炒米粉